After its first application was rejected by Southwark's planning committee, Developer Delancey's application for the redevelopment of the Elephant & Castle shopping centre has been narrowly approved.
Affordable housing
Delancey has been granted permission to build 979 new homes totalling 106,471sqm of residential floorspace and while 35% will be 'affordable' only 9,141sqm (8.6% - 116 homes) will be social rent.
None of this is in line with the Elephant's current affordable housing policy, which requires half of the minimum 35% affordable housing to be social rented. Delancey should be providing 1,863sqm - nearly twice as much social rented housing. Half of the social rented element has been substituted for London Living Rent equivalent', £205 - £308pw, and affordable rent at up to 80% market rent, depending on income. 60% of the overall affordable housing will be for households with incomes over £60,000 pa and up to £90,000pa.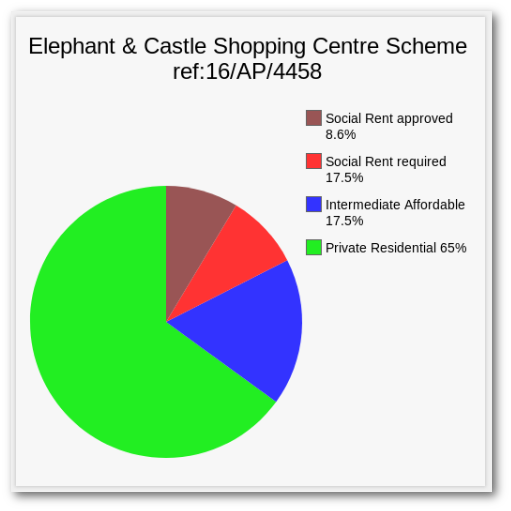 Nor does the affordable housing offer meet the required amounts in the new, 'emerging' policy Southwark is trying to sneak through the backdoor, to help the likes of Delancey reduce their affordable housing obligations. Southwark has also vehemently argued against including affordable rent in local housing policy. Delancey's offer will do nothing to offset the poor balance of social housing provision in the regenerated Elephant & Castle's new developments:
As is usual developer Delancey has submitted a viability assessment claiming that its affordable housing offer is the most it can viably provide, but it falls some way short of what Southwark's planning policy requires, as is also usual. Since its initial offer of 33 homes at 'social rent equivalent', Delancey has upped its offer, first to 74 and then to 116, but this is still some way short of the amount needed for policy compliance. Delancey were helped along by a £11.25m grant from the Greater London Authority (GLA), which promptly found its way straight to Delancey's bottom line, increasing its profit by exactly the same amount. We can see this be comparing two development appraisals of the scheme. The first, dated 13 June 2018, is for a scheme with 116 social rented units, but without grant funding, and has a profit of £137.1m. The second, dated 22 June 2018, is also for a scheme with 116 social rented units, but includes a £11.25m GLA grant, and, by a miracle of development finance, a profit of £148.4m. Delancey have responded to justified cries of 'subsidise homes, not profit' pretty much confirming that this is what has happened, but referring to the difference in the profit levels as a 'viability gap' and pleading that it 'maintains' the profit, not 'enhances' it. Most people will struggle to see the difference and would think the money better spent on the social housing Delancey claims it cannot afford to build.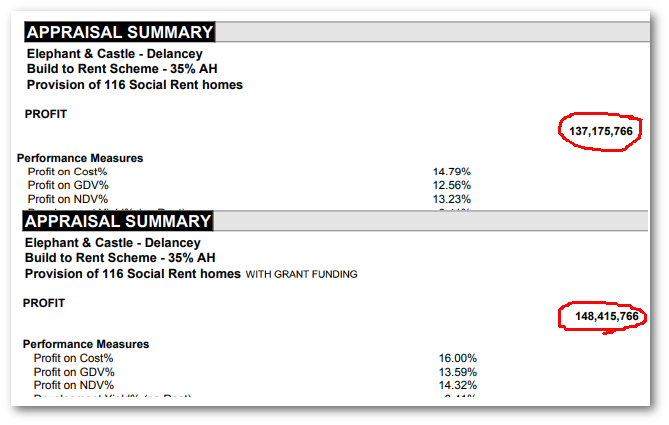 The Council's independent advisors (GVA) produced a report for the planning committee in which an input was listed in the FVA saying that there was a £15m CPO cost. It says it was provided this assumption by Delancey and that it was in the process of verifying it:
However, Delancey has reached agreement with the bingo hall and handful of traders who had leases extending beyond 2019 as well as the freehold owners of the pub and two terraced properties adjacent to the Coronet so the CPO is no longer needed. Whether the settlements with each of these collectively amount to £15m has never been confirmed.
In addition, Delancey's viability assessment claimed a £92m acquisition cost for the shopping centre site. This is £12m more than it actually paid for the site and is yet another way of making the scheme look less profitable than it actually is.

Furthermore, shortly before the planning application was due to be heard, Delancey applied for an option to be able to build a hybrid BTR/BTS (Buy-to-Sell) scheme, for which it submitted a separate viability assessment. This new FVA for a hybrid scheme was never reviewed by the Council's assessors GVA. Delancey's claim that this hybrid scheme couldn't viably provide a policy-compliant level of affordable housing was accepted by Southwark without any expert appraisal.
Offshore Elephant
Delancey's 'Build-to-Rent' homes will be privately managed by a Delancey subsidiary Get Living London. Despite managing over £1bn worth of PRS homes Get Living London has never paid a penny of corporation tax. This is because its parent companies are Qatari Diar and Delancey's tax-avoiding offshore investment fund DV4 registered in the British Virgin Islands. The Elephant and Castle shopping centre is currently owned by one of the fund's shell companies registered in the BVI and whose directors are registered in Bermuda and Kuwait. We have shown before how Delancey uses a complex network of offshore companies to avoid paying tax.

What about existing retailers?
As expected the shopping centre is to be demolished and just 10% of the redeveloped site will be 'affordable retail' with sub market rents for the first 15 years. Delancey's planning statement contends that 'it is recognised that some existing retailers in the area are benefitting from disproportionately low levels of rent…' and concludes that 'it may not be financially viable for them to survive in the area in the longer term'.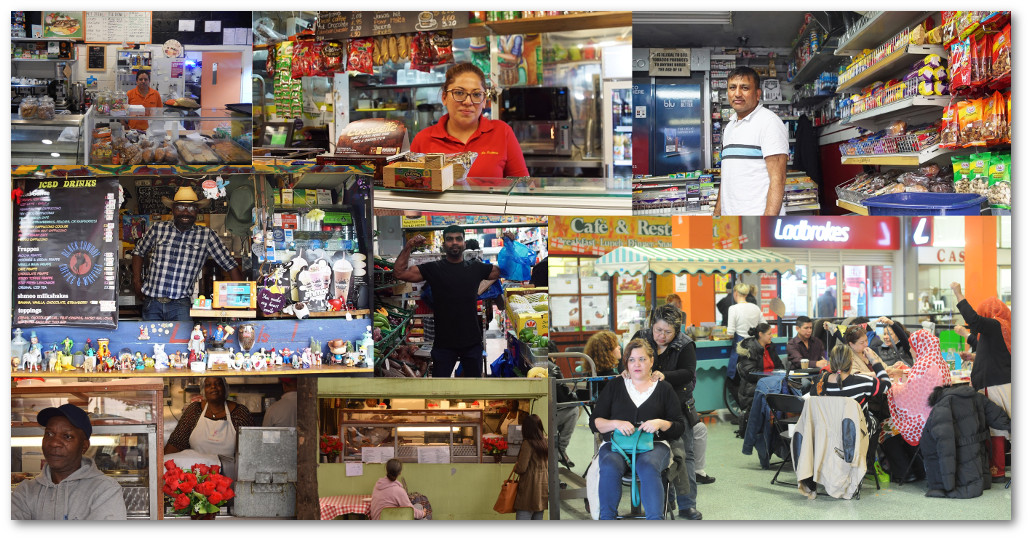 Delancey's neighbbouring development Elephant One was supposed to provide affordable retail space for some of the displaced traders. In 2015, we revealed how Delancey had successfully lobbied the Council to change the conditions of its planning permission to replace some of these units for a Sainsburys.
As a small consolation, Delancey have agreed to provide a temporary retail 'box park' using shipping containers at neighbouring Castle Square, which is on council-owned land but leased to Delancy on a peppercorn rent and a share of the revenue from the Square's future street market.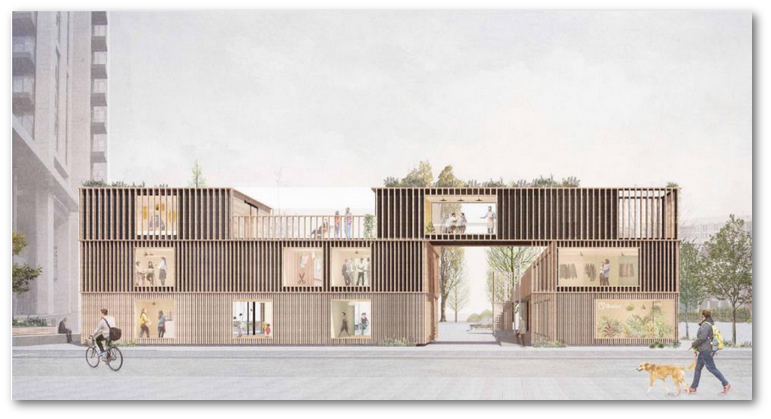 The Castle Square facility would last for 5 years, until the Elephant & Castle Shopping Centre development has been completed.
The facility is small consolation for the traders, who have objected that the proposed building is too small and would have trading restrictions that would make it an impractical premises for many of the displaced businesses. Delancey's proposals mention 33 independent traders, while the trader's own estimate is that there is a need to provide for over 100 traders. There are also many other issues, including the level of rents and service charges, the security of tenacy arrangements, selection criteria and disability access.
Delancey have agreed to the establishment of a 'Traders Panel' and traders want these issues, and the size of the relocation fund (currently at an insufficient £634,700) to be decided by the Panel, but trader representations on the remit and format of the Panel have gone unanswered, leaving them fearful about the make-up of the Panel and how it might deal with these issues.
In 2005, Southwark was slated by Lord Ouseley after an independent review found that its regeneration policies failed retailers and traders from BME communities. These failings clearly continue.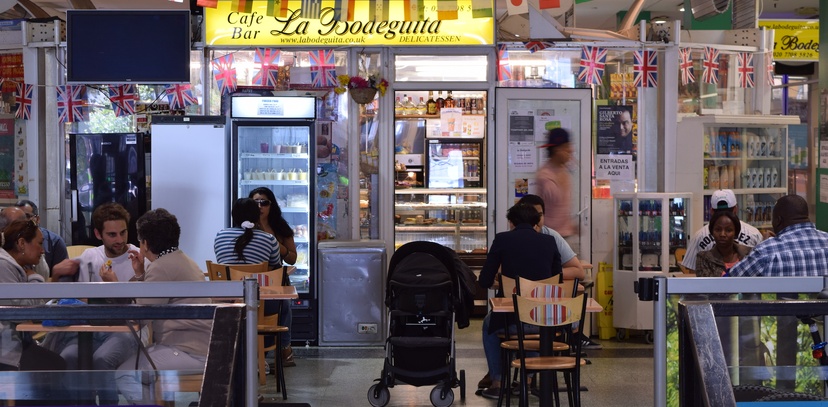 Delancey's application is just another step down the gentrification road. The shopkeepers and small traders, many from ethnic minority backgrounds, who have worked hard to become an integral part of the community, are deemed to be 'not financially viable …to survive'. Southwark Council and the Mayor should be telling Delancey how unacceptable this application is. They should be promoting London's diverse economy - not letting developers like Delancey kill it.
History
The Elephant & Castle shopping centre used to be owned by Godfrey Bradman, the property tycoon who redeveloped the City of London's Broadgate estate in the 1980s.
Bradman was originally selected as the council's development partner for the E&C regeneration back in April 2000, but his masterplan came to an abrupt end when Southwark terminated negotiations in April 2002.
The shopping centre was then sold to a joint-venture between Kuwaiti real-estate group Salhia and West Midlands-based regeneration developer St Modwen for £29m in 2004.
Having lost out to Lend Lease in its 2007 bid to be the council's regeneration partner for the Elephant including the Heygate, St Modwen put forward its proposals to the council for the redevelopment of the shopping centre. But it was knocked back due to the large number of residential units it wanted to build on the site; St Modwen said it needed to include 1000 residential units in the development to make it viable, but the council said it would refuse to consider more than 500.
As a result of the stalemate, St Modwen sold the shopping centre in 2014 for £80m to Delancey DV4, a developer funded by George Soros, managed by Tory donor Jamie Ritblatt, registered in the British Virgin Islands and which has been accussed of 'aggressive tax avoidance'. Jamie is son of Sir John Ritblat, property tycoon who owns British Land and is a long-standing Tory donor. British Land has been selected as the Council's development partner for its massive 46-acre Canada Water regeneration scheme.

Jamie Ritblat(left) and Sir John Ritblat(right)
Delancey, which is also developing neighbouring site (Elephant One), has employed former deputy Southwark council leader Kim Humphries to advise on its development and lead its consultation plans. Kim is now Carvil Ventures Ltd - an independent corporate finance and real-estate consultancy, which is advising Delancey. Kim made his name in the Heygate clearances and is not the first Council member to disappear through Southwark's revolving doors.

Former deputy Council leader Kim Humphries - now working for Delancey
Coronet
Delancey has dismissed the campaign to save The Coronet. The Coronet takes up a sizeable part of the shopping centre site. A music and event venue, it has also been a cinema and music hall dating back to 1872 and is a popular local institution. Attempts have been to try and have it listed on the basis of its Art Deco interior and exterior, which currently remains hidden behind its blue corrugated facade, but Delancey has the backing of the Council and wants to see the venue bulldozed. The Theatres Trust has submitted a strong objection to Delancey's planning application.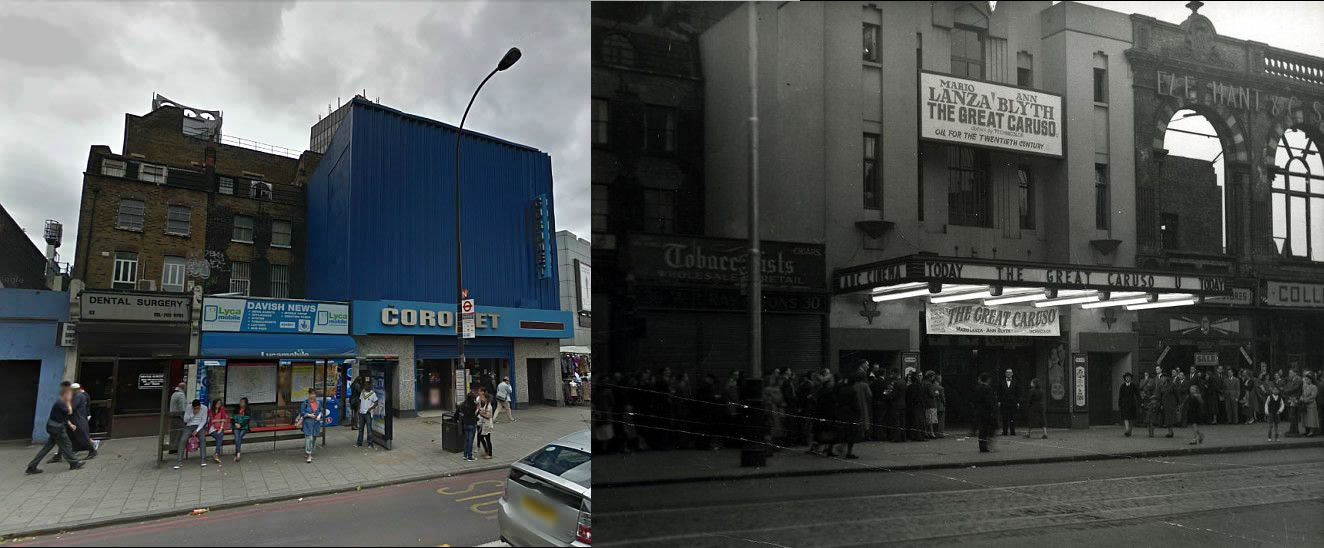 Transport
Transport for London has written to the Council outlining a number of significant transport issues that need to be resolved. One of these is the access route for service vehicles to the new shopping centre, which was originally going to be provided by an underground tunnel from Delancey's neighbouring Tribeca Square development. Indeed, Delancey's viability assessment for Tribeca Square argued that the ramp for the underground tunnel would cost £12.5m and the development could therefore not viably provide ANY affordable housing. The council accepted the argument and even signed over land to Delancey's shell company (Eadon Ltd), in order to build the underground access tunnel. However, Delancey's planning application now says that it wants to use a different, direct access route off New Kent Road instead. TFL says that this will cause congestion for buses and affect safe passage across the new pedestrian routes.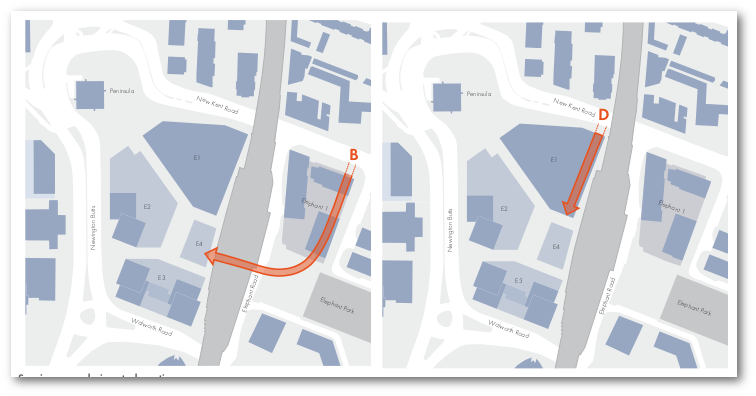 TFL also raises the issue of the mainline train station, for which - whilst having to cope with a huge capacity increase and which despite sitting in the centre of the redevelopment - Delancey doesn't propose any improvements whatsoever. Another major question surrounds the proposed Bakerloo line extension and how this will impact on the Elephant's transport links. The development plans were drawn up before this was announced, so its impact and resulting increase in capacity requirements means that Delancey and the Council need to go back to the drawing board and come up with a new plan that is going to provide for the next 50-100 years. The original masterplan envisaged an 'integrated transport interchange' linking the mainline train station with the Northern and Bakerloo lines, and which was central to the entire masterplan. Transport needs to be brought back in to focus and not sidelined by profit. Regeneration should be more than just letting developers build lots of private luxury homes.

Transport interchange envisaged by original masterplan
Public Realm
Land Registry Records show that the Council is handing over a considerable amount of public realm to Delancey for its disastrous and inqequitable redevelopment of the E&C shopping centre.
The S106 legal agreement shows that the entire public realm in Delancey's redeveloped Elephant & Castle will be privately managed and the Delancey reserves the right to 'eject' anyone it considers an 'annoyance':

Extract from the S106 legal agreement showing public realm clause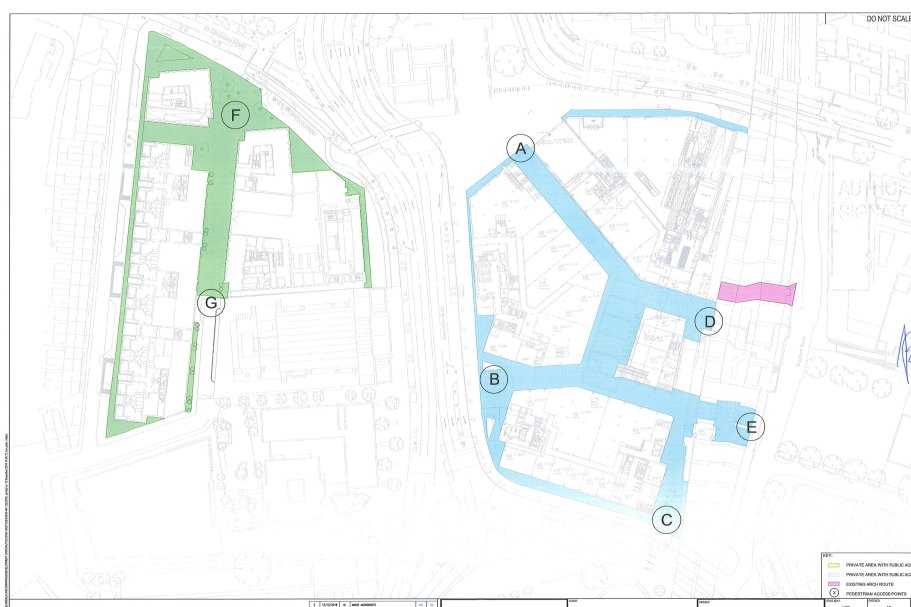 Extract from the S106 legal agreement showing new public realm