Developer Delancey has finally submitted its application for the redevelopment of the Elephant & Castle shopping centre and London College of Communication campus. It will be a mixed use development of shops, offices, homes and campus facilities.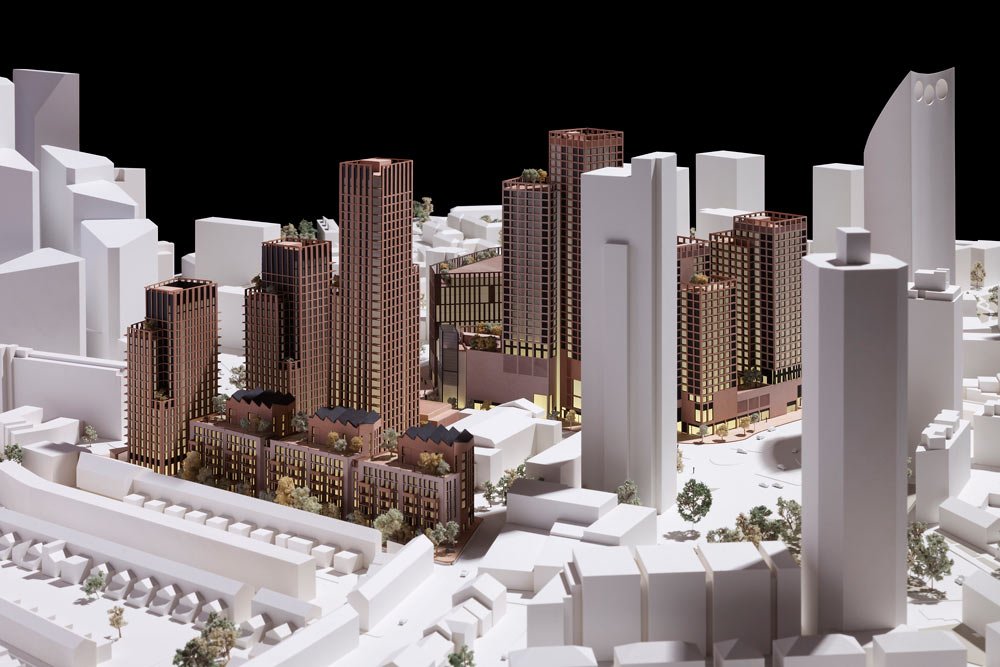 According to the affordable housing statement all of the proposed 979 residential units will be for rent, none for sale. There will be 35% affordable housing, but none of it will be social rented or part-buy/part-rent. Instead the affordable housing will be something called 'Dicounted Market Rent' (DMR), let at up to 80% market rent, but supposedly at a 'blended percentage' of 57% market rent. The application promises that at least 40% of the affordable housing will be let at or below the new London Living Rent, which would currently equate to around £1000pcm for a 1-bed flat at the Elephant. The 'affordable housing' tenants would be on 3-year assured short-hold tenancies, not on assured tenancies with no time limit, as issued by housing associations.
The affordable housing will not be let or managed by a housing association, as is usual, but will be privately owned by Qatari Diar and Delancey's tax-avoiding offshore investment fund DV4. The Elephant and Castle shopping centre is currently owned by one of the fund's shell companies registered in the British Virgin Islands and whose directors are registered in Bermuda and Kuwait.

As expected the shopping centre is to be demolished and there will be no room for most of the existing retailers. Delancey's planning statement contends that 'it is recognised that some existing retailers in the area are benefitting from disproportionately low levels of rent…' and concludes that 'it may not be financially viable for them to survvive in the area in the longer term'. Delancey offers a 'relocation strategy', but says that it's only on condition of being awarded planning permission and fails to provide any details of what its 'relocation strategy' entails.

This is a clear breach of paragraph 5.1.7 of the Council's planning policy framework for the Elephant & Castle, which requires a number of 'affordable retail units which are made available to existing occupiers displaced by development', in order to 'ensure that development opportunities provide opportunities for existing and future SME businesses'.
In October 2015, Southwark resolved to undertake an Equalities Impact Assessment, in order to fulfill its Public Sector Equality Duty to the shopping centre traders and explore how the impact of the redevelopment can be mitigated. This assessment was never undertaken, the Council is neglecting its duty and allowing Delancey to progress the scheme in total disregard for the existing traders.
Delancey make it clear in their Affordable Housing Statement that the application has been drafted after 'extensive discussions…with the Council…and…GLA' (para 5.1). It is also clear that much of these discussions were about changing the affordable housing rules to allow Delancey to avoid building social rented housing. Southwark has shown its affection for so-called 'Build to Rent' in its recent draft of the Old Kent Rd Area Action Plan/Opportunity Area Framework and the 'flexibility' this allows 'Build to Rent' in the delivery of affordable housing is duly noted by Delancey (para 3.32). Our new London Mayor, Sadiq Khan, also reveals his entusiasm for 'Build to Rent' in the just issued draft Affordable Housing and Viability Supplementary Planning Guidance, so Delancey can confidently state that the Mayor's 'Housing SPG will likely promote the 100% discounted market rent solutions on large scale sites'.
So, while this application is from Delancey, there can be little doubt it is coming forward with the blessing of both Southwark Council and the Mayor of London. None of the latest London Plan or local plan documents Delancey refers to in justification of its departures from affordable housing policy have been adopted; they are out for consultation or still to be consulted on. They all promote radical changes to affordable housing policy, changes that will exclude social rented housing from major new developments.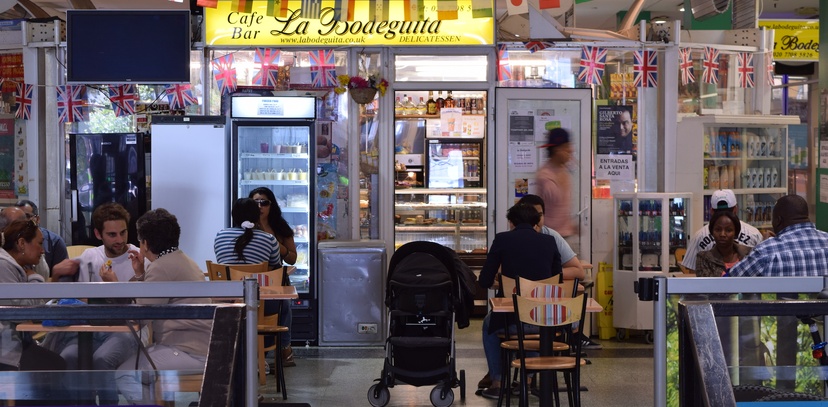 Delancey's application is just another step down the gentrification road. It has little in it that will help those who can only afford social rented housing; indeed it is purposely designed ot exclude them from the proposed development. The shopkeepers and small traders, many from ethnic minority backgrounds, who have worked hard to become an integral part of the community, are deemed to be 'not financially viable …to survive'. Southwark Council and the Mayor should be telling Delancey how unacceptable this application is, not changing planning policy to ensure its success.
The development adds to the other towers of shame at the Elephant where we now have a pipleline of 6228 new homes, of which a pitiful 82 will be social rented.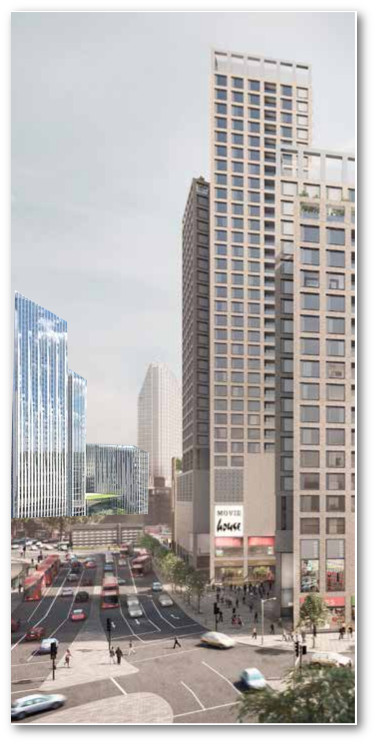 History
The Elephant & Castle shopping centre used to be owned by Godfrey Bradman, the property tycoon who redeveloped the City of London's Broadgate estate in the 1980s.
Bradman was originally selected as the council's development partner for the E&C regeneration back in April 2000, but his masterplan came to an abrupt end when Southwark terminated negotiations in April 2002.
The shopping centre was then sold to a joint-venture between Kuwaiti real-estate group Salhia and West Midlands-based regeneration developer St Modwen for £29m in 2004.
Having lost out to Lend Lease in its 2007 bid to be the council's regeneration partner for the Elephant including the Heygate, St Modwen put forward its proposals to the council for the redevelopment of the shopping centre. But it was knocked back due to the large number of residential units it wanted to build on the site; St Modwen said it needed to include 1000 residential units in the development to make it viable, but the council said it would refuse to consider more than 500.
As a result of the stalemate, St Modwen sold the shopping centre in 2014 for £80m to Delancey DV4, a developer funded by George Soros, managed by Tory donor Jamie Ritblatt, registered in the British Virgin Islands and which has been accussed of 'aggressive tax avoidance'.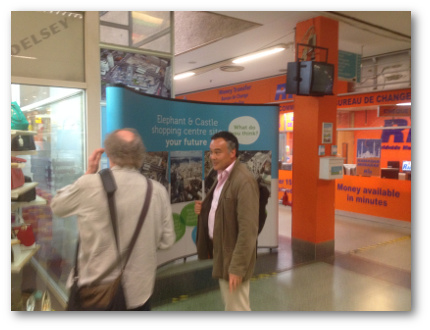 Former deputy Council leader Kim Humphries - now working for Delancey
Delancey, which is also developing neighbouring site (Tribeca Square), has employed former deputy Southwark council leader Kim Humphries to advise on its development and lead its consultation plans. Kim is now Carvil Ventures Ltd - an independent corporate finance and real-estate consultancy, which is advising Delancey. He is not the first former senior member or council leader to disappear through Southwark's revolving doors:
Delancey has dismissed the campaign to save The Coronet. The Coronet takes up a sizeable part of the shopping centre site. A music and event venue, it has also been a cinema and music hall dating back to 1872 and is a popular local institution. Attempts have been to try and have it listed on the basis of its Art Deco interior and exterior, which currently remains hidden behind its blue corrugated facade, but Delancey has the backing of the Council and wants to see the venue bulldozed. The Theatres Trust has submitted a strong objection to Delancey's planning application.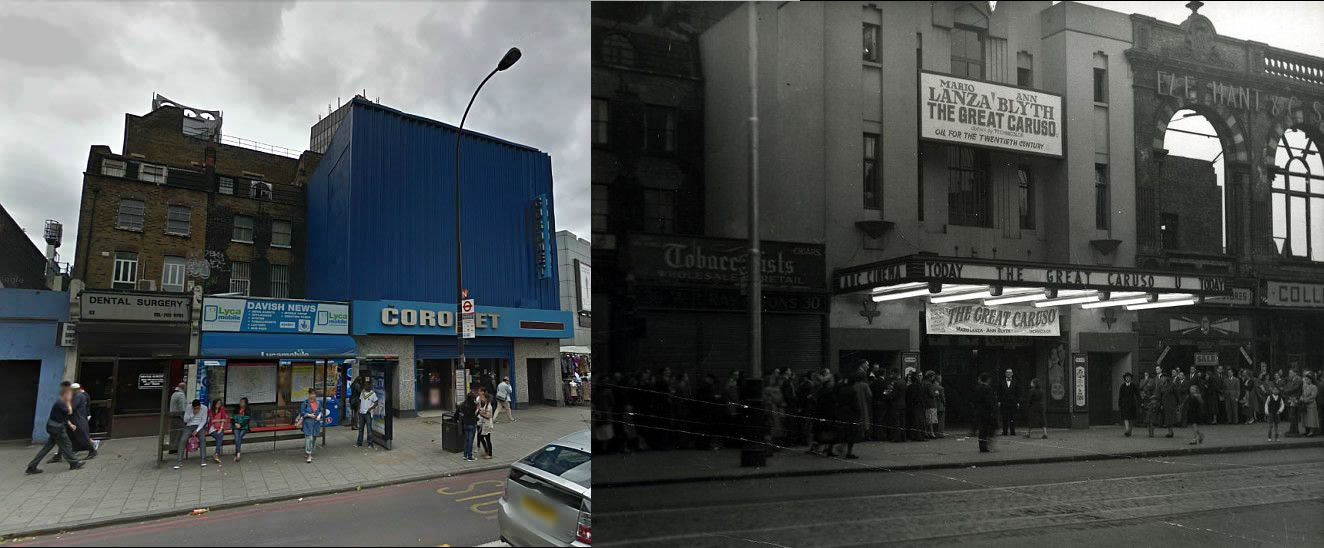 Transport for London has also written to the Council outlining a number of significant transport issues that need to be resolved. One of these is the access route for service vehicles to the new shopping centre, which was originally going to be provided by an underground tunnel from Delancey's neighbouring Tribeca Square development. Indeed, Delancey's viability assessment for Tribeca Square argued that the ramp for the underground tunnel would cost £12.5m and the development could therefore not viably provide ANY affordable housing. The council accepted the argument and even signed over land to Delancey's shell company (Eadon Ltd), in order to build the underground access tunnel. However, Delancey's planning application now says that it wants to use a different, direct access route off New Kent Road instead. TFL says that this will cause congestion for buses and affect safe passage across the new pedestrian routes.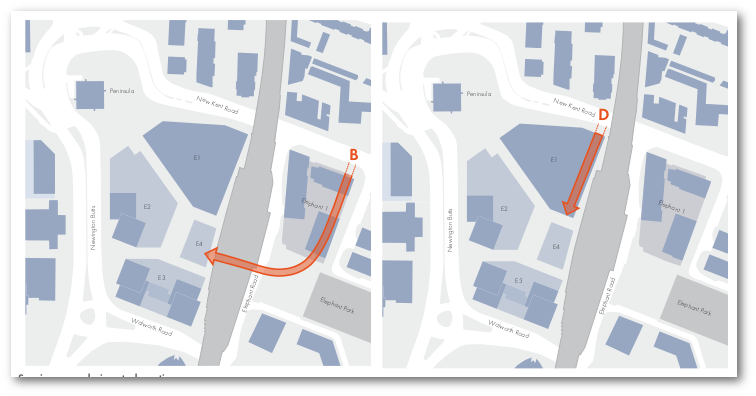 Object Now!