Barratt Homes, Britains third-largest housebuilder, has just posted a 45% rise in profits to £565.5m during the last financial year.
Barratt's success is due in part to its pipeline of major developments in Southwark, which include Maple Quays (phase 1 of the Canada Water regeneration); The Galleria development in Peckham; Redwood Park (built on former council land in Surrey Quays) and the 60-acre, 3,500-home Aylesbury estate redevelompent for which Barratt is Notting Hill Housing's development partner.
Barratt has also recently started work on its 'Blackfriars Circus' development, comprising 336 new homes in 5 buildings ranging up to 27 storeys in height, overlooking South Bank University campus at Elephant & Castle. According to SE1 website the tallest of these will be known as 'The Conquest Apartments'. This is an appropriate name for a development that was able to convince Southwark council to waiver the tenure requirements of its 35% affordable housing Policy. These would have secured a minimum 70 social rented homes in the development, but Barratt submitted a viability assessment claiming it would only be viable to provide 8 social rented homes and 48 affordable rent homes. The officer's report explains that the council had the viability assessment appraised by the 'Borough Valuer' and that "Whilst a number of inputs into the valuation have been agreed (including commercial values, ground rents, and professional fees) an agreement has not been reached on two fundamental matters: methodology of calculating the benchmark value of the site; and residential sale values. As such, the applicant and the Borough Valuer have not reached an agreed position about how much affordable housing can be delivered on site." (para. 109)
Nevertheless the planning application was waved through and demolition works started on the site earlier this year. However, now it is being reported that the council is planning to buy these 8 social and 48 affordable rented homes from Barratt, in order to turn them into social rented council homes at a price tag of £10m.
The sale (but not price paid) is confirmed in the freehold land registry deeds.
However, the leasehold Land Registry deeds only show 'parts of block A' to have been purchased by Southwark, for the sum of £4.2m.
The Land Registry also lists deeds for block B, which has been purchased by housing association Affinity Sutton for £7m.
In 2016, Barratt applied to the Council to remove the condition that 10% of the flats must be wheelchair accessible. Barratt argued that it had tried to market the wheelchair accessible units but that there were no buyers. The application was approved - by a delegated officer decision.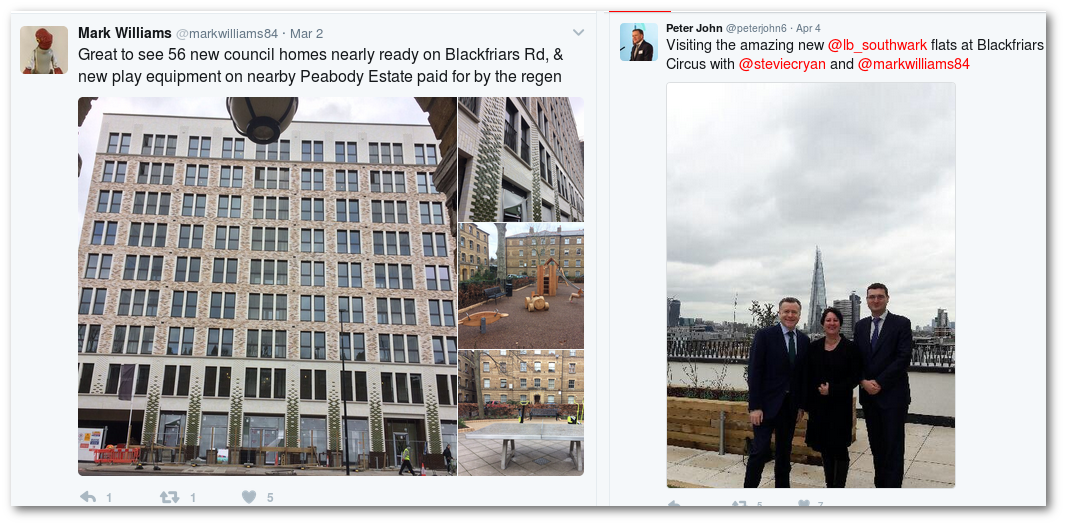 Tweet by Cabinet member for Regen Mark Williams
The absurdity of buying homes from developers to convert to social rent when they should have been social rent anyway, is plain for all to see. However, it also appears that Southwark is paying well over the market price: £10m for 56 affordable housing units seems an awful lot of money compared to the £3.1m paid by L&Q for 54 affordable homes it brought from Heygate developer Lend Lease at Trafalgar Place.
Information in the response to FOI request shows that the development is being built partly on Council land.
The Council has created a new separate Council waiting list for intermediate housing that will offer 'Discounted Market Rents' rather than Social Rent. Which of these tenures will the 56 new 'Council' homes be let at? http://www.insidehousing.co.uk/southwark-council-to-create-intermediate-waiting-list/7018529.article